The birth of a great artist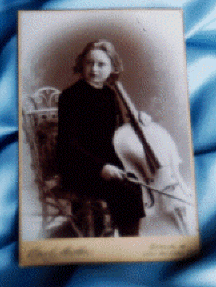 Paul Bazelaire was born on March 4, 1886. Paul Bazelaire's father , a distinguished author, won many literary and poetry awards in France and in Belgium.
His mother, an excellent musician, was, along with his grandmother, his first professor of solfège and piano.
At the age of 7, while a student at the Collège TURENNE of SEDAN, he began to study the cello thanks to H. CLARINVAL, the excellent director of Sedan's Philharmonic Society.
At the age of 10, he enters the class of DELSART at the Paris Conservatory.
Paul BAZELAIRE, a stunning cellist, is also an accomplished pianist! Upon entering the Conservatory, he still hesitates about his choice of instrument! !
His first public concert takes place for his native city, SEDAN, on the 18th of December 1897.
At the age of 11, he is unanimously awarded a 1st prize in Cello, unique in the annals of the cello classes at the Paris Conservatory. He pursues his studies at the Conservatory where he obtains as well his 1st prizes in harmony, counterpoint and fugue.
In the class of Xavier LEROUX , he obtains the 1st prize in harmony— he is 17.
Wishing to pursue his composition studies to the highest level, where he studies counterpoint and fugue with CAUSSADE and LENEPVEU, obtaining those first prizes at 19.
He studies the organ with Louis VIERNE.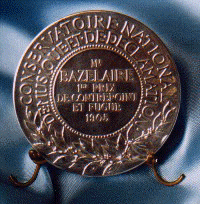 "His supple and brilliant style, the remarkable force of his bow, his secure, intelligent and delicate interpretation." would lead immediately to many stunning successes.
In a few months, he became famous…"
He never forgot SEDAN and returned regularly to give concerts at the current Cinema "Le Turenne" or as this program indicates at the Town Hall at the age of 21.